When the route before you is not thoroughly defines, you need to be sure and keep your options open. The HiPath 3000 allows you to do just that. With this remarkable phone system by Siemens, you have both the traditional telephony and the new-world communications all rolled up into one flexible and cost-effective solution.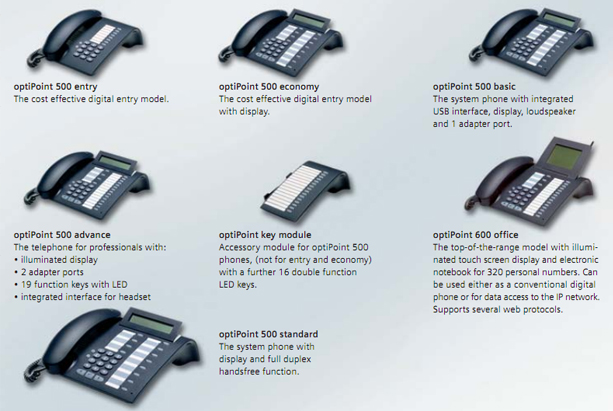 The HiPath is  a range of modular communications latforms that are designed to meet the needs of demanding medium-sized enterprises. Plus, the latest revision now introduces another enhancement to personal contact-ability.
Besides DECT Cordless and VoWLAN solutions for on campus mobility, the HiPath 3000 now offers integration for GSM mobile users who work away form the office. With special one-number contact-ability, your customers won't have to try the office first before checking your GSM mobile.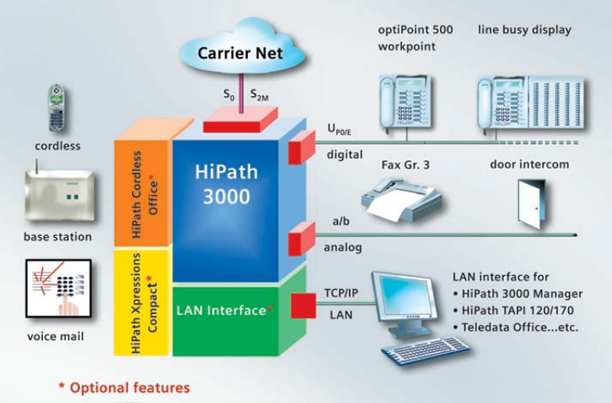 Learn more about the HiPath 3000 by reading the following brochures:
The value of HiPath
HiPath Data Sheet
VoIP (IP phones/HG1500)
optiPoint 600 office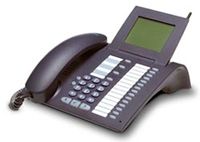 The OptiPoint 600 office, a TDM and IP-based feature telephone with extra-large display, supports both Voice over IP and TDM-based switching.  Provides excellent speech quality and the highest degree of user-friendliness via its display with touch-screen functionality.
Features of the optiPoint 600 office include:
Tilting semi-tone graphic display (8 x 24 characters)
Touch screen functions with back-lighting and adjustable contrast
19 freely programmable function keys with light-emitting diodes
3 dialog keys for interactive user guidance with optiGuide
WAP browser
LDAP interface
Integral mini switch
Use as TDM phone plus data access to IP network
Hands-free operation and open listening
Dialing without lifting the handset
Calling party identification display
Password protection for administrator related data
Software downloads for performance updates
Electronic notebook for 320 entries
Interface for headset
Hearing aid compatibility
CTI via USB and the TAPI driver Call Bridge TU
optiPoint 400 office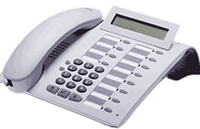 The OptiPoint 400 standard is an IP-based feature telephone with mini switch and power over LAN.
Features of the optiPoint400 standard include:
Tilt-able alphanumeric display with 2 lines, each with 24 characters, and adjustable contrast
12 programmable feature keys with LEDs
10 programmable speed-dialing destinations using the dialing keypad
3 dialog keys for interactive user prompting system
2 control keys (plus and minus) for setting ringer pitch and ringer volume
Multilingual menu system/display texts and generation of local tones
Hands free talking and open listening over microphone and loudspeaker in telephone
Memory for the last 20 calls that were not answered, including caller information, date, and time
Redial for the last 10 calls
Call waiting with camp-on feature
On-hook dialing
Telephone number display (Calling Party Identification)
Key click
Separate password protection for user and administrator data
Local time and date display
Inband and outband DTMF signaling
Feature update by software download (via FTP)
Telephone numbers (E-164) or IP address en-bloc dialing
Protocols: H.450, H.323, H.225, H.235 (security), H.245, HFA (HiPath Feature Access), TCP/IP, FTP, DHCP, SNMP, SNTP
HG 1500
HG1500 is the economical communication solution for companies with a medium volume of data traffic.  It transforms HiPath 3000 series into a communication server in the LAN.  HG1500 permits the direct connection of Ethernet LANs (10/100 MBit/s) to HiPath 3000 series.  This makes voice, fax and data communication possible via the ISDN carrier network from any PC networked via the LAN.  HG1500 includes an H.323 gateway which supports standardized voice communication over IP networks (Voice over IP).
Benefits of HG1500 include:
Transform your HiPath 3000 system into an IP converged platform that's reliable, feature-rich and affordable.
Protect investments in HiPath 3000 systems and reduce costs with IP multi-site networking.
Get the benefits of reliable IP today by sharing applications across your existing network for increased efficiencies.
Adding the HiPath HG 1500 integrated IP gateway instantly transforms the HiPath 3000 communication systems into a fully IP converged platform that's reliable, feature-rich, easy to implement and affordable—making it one of the most powerful communication systems available.  Getting more value from your data network is only the beginning for the HiPath HG 1500 integrated IP gateway.  The HiPath HG 1500 uses VoIP technology to extend the full range of features and applications throughout your IP network, and users can choose from a portfolio of work points including native IP telephones and PC soft-clients.  Both local and remote LAN/WAN users benefit from sharing resources, Internet access and high-speed data transfers.  The HiPath HG 1500′s practical IP convergence solutions can strengthen your business communications by providing flexible, rational and affordable choices for implementing new voice and data applications to meet your business strategies.